WELCOME TO THE UKRAINIAN IRON CHEF WEBSITE!

Passion
Passion is when you put more energy into something than is required to do it. It is more than just enthusiasm or excitement, passion is ambition that is materialized into action to put as much heart, mind, body and soul into something as is possible.


---
The Yonkers Ukrainian Heritage Festival is a three day festival showcasing Ukrainian Culture, Art, Dance, and History in a positive light. Established in 1985, the event was the result of the Yonkers Branch of the Ukrainian American Youth Association (CYM) members desire to reach beyond the Ukrainian community. Part of the purpose of this festival's creation was to put Ukraine back on the map, to connect with other communities outside our own, and to educate, enlighten, and develop long lasting relationships with surrounding communities.
In our thirty year tenure, we have provided festival attendees with numerous activities. We spotlight our culture through our arts, dance, and history. Vendors are available with unique Ukrainian products for sale. Their is non-stop entertainment by dance groups and musicians. And most importantly, and most famously known for, our ethnic Ukrainian Food. Most importantly, we do all of the above in a family-friendly environment.

---
let's GRILL!
---
"Summer"
I love the sunny face of summer's heat
As sparkles shimmer brightly in the air,
This forest by the sea, my cool retreat,
Protected from the afternoon's bright glare.

The breeze flows quietly gentle through the trees,
As birds delight with merry chirping tune,
And shadows dance as part of nature's frieze,
An overture to summer's warmth in June.

I hear the ocean lapping to the shore,
Calling me to bathe within her waves,
Caressed by foaming surf I so adore,
I dive beneath her turquoise deep enclaves.

The sunshine paints bright highlights on the sea,
As salty water clings to cool my skin,
And breaking waves play out their symphony,
I feel a sense of inner peace within.

Oh summer, how I love your warming rays,
The softness of the sand between my toes,
The comfort of the forest's saline haze,
As nature plays her rhythm in repose

The early summer sun a warm surprise
As spring casts off her fragrant atmosphere,
And azure blues paint patterns in the skies,
While stress and tension calmly disappear.

Welcome back!


Pair your favorite foods with an ice cold Beer, chilled Chardonnay, a special Merlot or a thirst quenching Ice Tea!

But always drink responsibly! -Pete-
---
PETE'S FEATURED RECIPE OF THE SUMMER - GRILLED PEACHES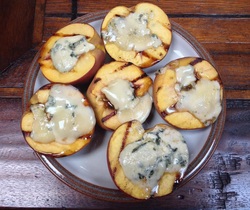 GRAB SOME FRESH PEACHES, HONEY AND BLU CHEESE FROM YOUR LOCAL MARKET AND GET GOING....



CLICK ON THE PICTURE FOR RECIPE
---
---
SET THE TABLE... LIGHT THE GRILL... AND MANGIA! MANGIA!
SEAFOOD
MEATS
SUMMER SALADS
---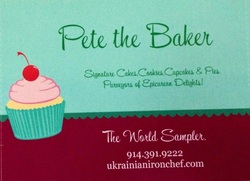 ​
INTRODUCING OUR SISTER SITE
"Pete the Baker"L-O-V-E
doesn't stop with his enticing cuisine, Pete has always had a perchant for baking... Now he wishes to share it with everyone else, not only by baking for the holidays or his parties, but by also making his "Sweets" available by order to all, to share and enjoy with their friends and family...
Please visit
Pete-The-Baker.com
, enjoy the gallery and place your order today!
For your convenience you can click on the buttons below.
---